A Brief History of Writers Unit #30
By Steven J. Rod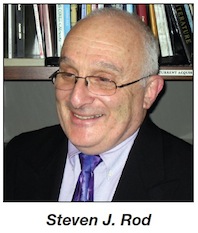 Writers Unit #30 was organized during the 1967 APS Convention held at the Robert Treat Hotel in Newark NJ. Its stated purpose was to provide authors, reporters, and editors of philatelic news, the editors of philatelic journals, or others concerned with philatelic writing (a) with a means of communication between men and women of similar activities, (b) to provide these same people with guidance and counsel, and (c) to create a foundation for support or action where or when inequities exist.

Our founders were very careful to declare that WU #30 was not established in order to create a division in the hobby, "nor to stir or distract from other organizations that might have similar aims." Its formation was primarily to provide for APS Members an internal organization aimed at stimulating philatelic writing. It was also formed to produce a springboard for constructive guidance in the preparation of manuscripts, philatelic publicity — or other form of writing concerned in any way with philately.

David Lidman was the first chair of the WU #30 from 1967-1969. At the time he lived in Manhattan. James M. Chemi was the first vice chairman and he lived in Phoenix, Arizona. Charlie Cratsenberg was our first secretary–treasurer.

WU #30 was organized at the APS' 81st Convention held September 21–24 in Newark, New Jersey and hosted by the members of the various chapters of the North Jersey Federated Stamp Clubs (APS Chapter 508). It is of interest to note that the APS' 81st Convention was held at
Nojex 1967
, whose co-chairs at the time were Gerry Neufeld and Sid Schneider.

Lidman was America's greatest philatelic writer and editor. He wrote philatelic newspaper columns nearly all of his adult life. He also wrote many philatelic books, especially general market books on the pleasures of stamp collecting. In 1971, we presented him with our very first medal in recognition "of his many years of outstanding service to philately."

Chemi was a preeminent philatelic writer and editor, and a leader of Arizona's philatelic community. He was a part-time editor of the
American Philatelist
from 1960 to 1965, and became its first full-time editor in 1965. He remained as editor of the AP until his death in 1976. (Cited in his APS Hall of Fame posting is the fact that Chemi was one of the "Committee of Five" who led the APS effort to put the notorious forger Raoul Ch. De Thuin out of business. He was editor-in-chief of the book,
The Yucatan Affair
[1974, reprint 1980] about their successful effort.)

Our very first formal publication was a six-page mimeographed news bulletin labeled
Vol. 1, No. 1 — Winter 1968
. The front page story talked about how we passed the 100-member mark in less than six months. "To reach the century mark in less than six-months is an outstanding achievement for any new organization of a specialty nature. The growth of Unit No. 30 is a clear indication that a need has long existed within our national society for a live-wire organization devoted exclusively to problems and needs of philatelic writers, editors and columnists."

Let's Have Breakfast

Of very special historical interest, is how the first WU breakfast came into being. It can be traced to the following invitation from Cratsenberg: "We sincerely hope that we will see as many of you as possible at the '68 Spring meeting in San Diego, and the Writers Unit meeting will be held on Sunday morning, March 31, at 9 a.m. It will start with breakfast, so plan to attend and let's break bread together."

So our great tradition of 40 years started with the invitation to our second formal gathering, where as an incidental occurrence, "breakfast was served!"


Ground Rules

One of the initial efforts of the Writers Unit was to establish certain ground rules on writing style. The officers were quick to declare: "The use of the term
writing style
does not mean that the Writers Unit is attempting to tell how to write.." The Officers encouraged all members of the WU #30 to acquire a copy of
The Associated Press Stylebook
to be used as a guide book.

From the get go, WU #30 were adamant in declaring that "every writer has his own style". The recommendation to purchase the style book was to provide uniformity where spelling, punctuation, or other common usage of the English language prevails.

Another vision of the fledging organization back in 1967 was the hope that the formation of the unit would enhance and enable philatelic writers' excellent communication with government agencies that provide stamp news. The founders had hoped to establish a rapport and relationship with these sources so that the courtesies normally extended to philatelic writers would be extended to every member of the Writers Unit who so desires access to these courtesies. So, here is a trivia question for you!


Hands Across the Border

Lidman was invited to write an introduction to the official
Efimex '68
catalogue and told all about the new organization. It was a letter called "Greetings from the Chairman of WU#30". Here is an excerpt:

"This is an auspicious occasion for the Writers Unit of the American Philatelic Society — to be participating in this great international stamp exhibition in Mexico City, and sharing with our neighbors, philatelically and in other ways, the amicable relations that exist between our two great Republics.

"Our Writers Unit is a fledgling. While we are part of the largest philatelic organization of its kind … membership in the Writers Unit is limited to members of The American Philatelic Society only."